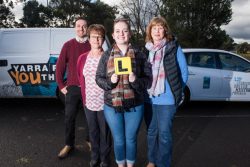 A program supporting young people across the Yarra Ranges to obtain their driver's licence has continued to attract support in the community, with local organisations sponsoring the L2P program.
The L2P program pairs volunteer mentors with young people who face significant barriers in gaining their 120 hours needed for their probationary licence.
Mooroolbark Community Bank, Warburton and Yarra Junction Community Banks and Anchor have provided support totalling almost $11,000 for the program's coming year.
Yarra Ranges Council Mayor Noel Cliff said the L2P program was essential, helping young people to learn valuable driving skills from supportive mentors.
"Driving is one of the most frequent things that we do as adults, and can be one of the most dangerous," Cr Cliff said.
"Many of us take for granted the safe driving skills we picked up while learning to drive, and, through L2P, young people are taught those valuable skills by their mentor, preparing them for the rest of their adult lives.
"Young people in the Yarra Ranges, including the Upper Yarra area, have limited transport options.
"Having a licence means being able to travel to work and to go out and enjoy themselves."
L2P mentors help to empower young people, develop their potential and build their resilience, and council is seeking volunteers to step up to the role.
Mentors must hold a full Victorian driver's licence, undertake a police check, working with children's check and a driver history check, undertake a VicRoads training program and be interested in helping young people in their community.
For more information about the L2P program, and to express interest in volunteering, visit www.yarraranges.vic.gov.au/community/youth/L2P.