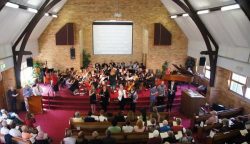 By Kath Gannaway
The 2017 Massed People's Choir and Orchestra is waiting for calls from those who want to celebrate with music and song.
The annual event, which is hosted by the Warburton Seventh-Day Adventist community, provides excitement and spontaneity for people from all around Melbourne, the Yarra Valley and sometimes interstate, coming together to play incredible music.
Nyarne Darko is music director for the event and has conducted the orchestra for the past few years.
"We usually get between 50 and 60 people for the orchestra which is made up of people who are able to read music, can follow a conductor and who just want to play in an orchestra," Nyarne said.
"The youngest musician we have had in the orchestra was four years old, and she played for the whole day.
"It is an amazing experience, standing up in front of these wonderful people, most of whom you don't know, who have come from all around the place, getting together and playing amazing music."
The choir is open to anyone who would like to sing but also has a sound structure with experienced musicians leading the soprano, alto, tenor and bass parts.
"The congregation who want to be part of the choir are seated in their groups and can number up to 400, so it's an amazing experience," Nyarne said.
For the orchestra, there is a mix of amateur musicians and people who are professional musicians with the basic structure and music written in parts that is easy for everyone to play.
Practice sessions are held the night before and on the morning of the concert.
"It's quite exciting – it just works," Nyarne said.
The program of 25 hymns is mainly traditional mixed with a few more modern hymns.
With the orchestra in front of her, and the choir behind, Nyarne said she has the best seat in the house, but there are 999 more seats in the Warburton Seventh-Day Adventist Church and the doors are wide open to anyone who would like to experience a massed orchestra/ choir in action.
"We all love to sing, we all love to play music, and when people can be part of something they enjoy it so much more," Nyarne said.
To find out more about joining the choir, phone Brian Way on 0409 002 270.
To be in the orchestra, phone Nyarne on 0410 641 192.
Advance notice is required for the orchestra.
The 2017 Masses People's Choir and Orchestra concert is at the Seventh-Day Adventist Church, 3490 Warburton Highway, Warburton, on Saturday 29 July.
The service is at 11am and the concert is at 3.30pm.