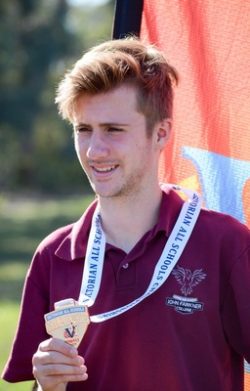 By Jamie Strudley
Saturday represented the start of the cross country championship season with the Victorian All Schools and Open Age Cross Country Championships held at Bundoora Park.
School athletes represented their respective school, while athletes no longer at school competed for the club.
Yarra Ranges Athletics had an excellent turnout of athletes throughout the day with 20 club athletes representing their school.
Stand-out perfromances came from Sam Norton, Georgia Laven and Lily Peacock.
Sam held off a late challenge to win his Under 15s 4km race.
Georgia ran a solid race to finish a close second in the Under 16s 4km, while Lily ran a strong second lap to claim bronze in the Under 16s 4km.
Other top 10 finishes were by Maddie Laven, Indigo Linde and Ruby Dixon.
Unofficial results:
Under 14 Women 3km – Madeline Laven 4th 11.26, Indigo Linde 8th 11.43, Mia Strudley 25th 12.33.
Under 16 Women 4km – Georgia Laven 2nd 14.22, Ruby Dixon 6th 15.00, Zoe Sibley 16th 15.57, Ella Strudley 55th 18.16.
Under 17 Women 4km – Lily Peacock 3rd 14.42, Grace Muller 13th 15.36. Under 20 Women 6km – Olivia Twining 19th 29.16.
Open Women 10km – Judith May 53rd 43.27, Amanda Laven 102nd 47.20, Alexis Sketchley 146th 52.25, Sue McCall 155th 55.17, Erika Bedyn 158th 55.59, Laura DiGregorio 175th 59.39.
Under 14 Men 3km – Zachariah Clarke 60th 11.55, Angus Norman 83rd 12.26, Alexander Van Duuren 119th 13.56.
Under 16 Men 4km – Harrison Van Duuren 42nd 14.48, Liam Russell 78th 16.22, Camden Hewitson 80th 16.25.
Under 17 Men 8km – Harry Norman 21st 22.12, Jayden Eagleton TBC.
Under 18 Men 8km – James Laven 32nd 21.46.
Under 20 Men 8km – Mitchell Mullens 26th 33.42.
Open Men 10km – Dean Tromp 69th 35.32, Michael Clarke 161st 39.25, Andrew Searles 179th 40.10, James Anderson 214th 41.19, Bryan Ackerly 227th 41.40, Graham Coutts 261st 43.04, Jamie Strudley 275th 43.43, David Laven 317th 46.29, Jordan Brown 334th 47.25, Justin Eagleton 349th 49.06, Craig Hewitson 371st 51.39.
Attention now turns to the next XCR event, Road Relays at Sandown on 8 July.
This event is combined with the Little Athletics Victoria Road Relay Champiosnhsip so the club lookd forward to seeing the entire club available and competing.
Athletes enjoyed sunny conditions for the Saturday morning cross country, this week held at at Margaret Lewis Reserve.
While it was cold early, the effort and enthusiasm of all athletes and supporters was superb making for another excellent morning of cross country.
There is no Saturday morning cross country next week as the little athletics athletes tackle the Eastern Region Cross Country Championships at Ruffey Lake, Doncaster.
See you all there; if not – the next round will be on Saturday 1 July at Margaret Lewis Reserve for the club handicap.
The club welcomes all athletes of any age or ability.