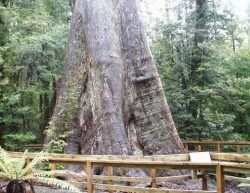 By Kath Gannaway
Police and SES are urging bushwalkers to invest in a radio beacon if they are going into areas that have poor telephone reception.
The call comes after a six-hour search for a man lost in the bush near Powelltown on Tuesday 14 March.
Police from Neerim South, the Police Air Wing and SES units from Upper Yarra, Healesville and Lilydale were called in after being alerted to a triple-zero call, about 2.30pm.
The man from the Dandenong area was found about 9pm on a track not far from the Ada Tree.
Acting Sergeant Steve McGillivray said the man had walked to the Ada Tree but was using an out-of-date map to find his way back.
"I think what happened is he's gone down a goat or deer track thinking it was a track on the map which doesn't exist," he said.
He said attempts by the air wing to locate the man failed because of the dense bush.
Upper Yarra SES Deputy Controller Michael Young said the man was an experienced walker and had all the right gear for a day walk, but said the search was "a bit like a needle in a haystack".
"The problem when he found he was lost was that there is basically no phone service out there so although he was able to alert triple-zero, we weren't able to get a good location of where he was," he said.
The man was found about 9pm after police and SES decided to drive the tracks, sounding their sirens and waiting for a few minutes for a response.
They were on New Turkey Spur when they heard the man yelling.
Acting Sergeant McGillivray said the man was well, apart from a few cuts and abrasians.
In addition to advice for walkers to invest in an EPIRB (Emergency Position Indicating Radio Beacon) which transmits a coded message via satellite and can have a built-in GPS, police and SES said there were a few basic things walkers should do before heading out.
Always let someone know where you plan to walk and an estimated return time, invest in a current map and, at this time of the year, check for any planned burns in bush areas.