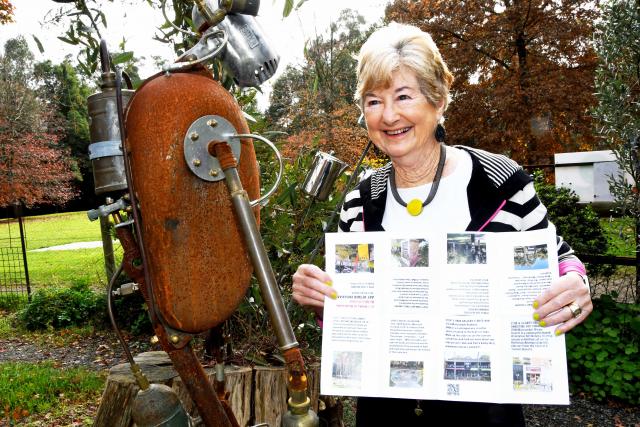 By Renee Wood
Talking a stroll around Healesville you may spot public artworks around town but be unaware of the history behind them.
To help cure the curiosity, sculptor Mim Kocher has now created something that can teach residents and tourists about the art which can be visited by foot.
Ms Kocher established a self-guided 'Art Walks' for Healesville, marking out a route with more than eight spots to stop at along the way in a zine.
Art works and galleries feature, including works from artists Clare James, Ali Griffin and Aunty Kim Wandin.
Ms Kocher was successful in receiving an Art Attack Grant from the Yarra Ranges Council to get her idea off the ground.
"During all our lockdowns, I did a lot of walking around Healesville and discovered there's just so much public art and I thought wouldn't it be great to have a purpose to your walk and have an art walk?" Ms Kocher said.
The artist spent time investigating the local works and discovering the history behind each of them and the information of each artwork and map has all been laid out in a pocket size booklet.
"It's lovely to have a quest, you know when you go for a walk sometimes there's a nice coffee shop at the end, but if you think you could have a quest to find those artworks and read a little bit about them."
The brochure has distribution points around the area including the YAVA Art Street Library, The Memo and Health Gallery.
It's hoped this is just the start of what's to come, with Ms Kocher discovering there are still many other public pieces that can be added to the walk.
"New things happen all the time – like Indigenous artist Nikki Brown has just put up possums in a tree outside Sophie the Cheesemonger – things happen all the time so hopefully, more and more art," she said.