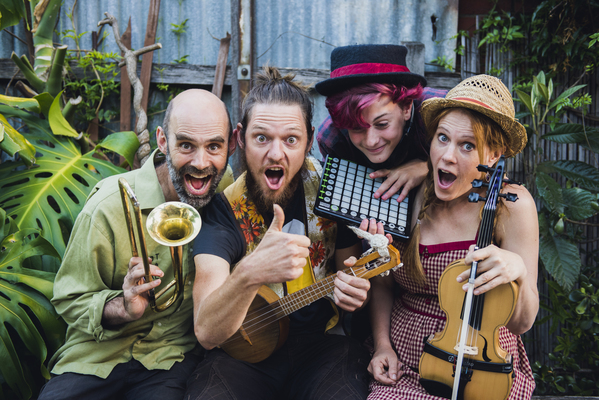 Yarra Valley ECOSS is hosting an evening with the Formidable Vegetable Sound System as part of Permaculture Week in the Yarra Valley.
With a wheelbarrow full of dirty electro radish-beets, crusty jazz ukulele, swingin' strings and hyperactive horns, Formidable Vegetable are here to sow the garden of your mind with seeds of future-resilience in the funkiest way possible.
Having planted their tendrils into every corner of the globe from Glastonbury Festival to the United Nations, Formidable Vegetable is using their quirky brand of musical activism to de-pave the problems and grow fertile, abundant solutions in their place.
Over the years, they have become a favourite on the Australian and international festival circuits, having played at some of the biggest events in the world alongside Radiohead, Tame Impala and The Rolling Stones.
Realising that music is one of the best tools for learning and inspiring new behaviour, frontman Charlie Mgee has dedicated his musical mission in life to composing fun tunes on a ukulele about creating the kind of world we want to live in.
At any given time, Formidable Vegetable consists of Charlie Mgee on uke and vocals, Mal Webb on slide trumpet and trombone, Kylie Morrigan on violin and Winx on beets.
This event will be one of many to feature as part of Permaculture Week in the Yarra Valley.
For more information about the ECOSS event, visit http://www.ecoss.org.au/.
For more information about Permaculture Week, visit http://www.permacultureyarravalley.org/.