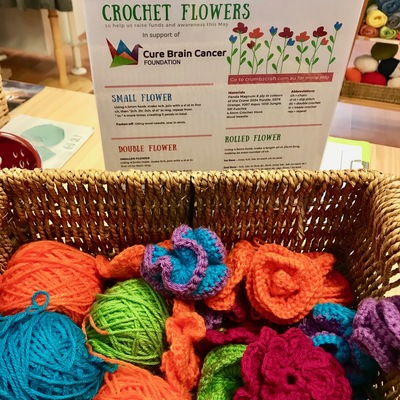 Healesville's Crumbz Craft is kicking off their fundraising month on Wednesday 1 May at Watts River Brewing for a night of Beer and Yarn.
Each year Healesville haberdashery Crumbz Craft chooses a charity to support with a month of fundraising throughout May.
This year they are raising funds and awareness for Cure Brain Cancer Foundation with a month-long sponsored Yarn-a-Thon.
For $10, you can come along and enjoy a night in a brewery, helping Crumbz Craft kick start their fundraising.
Your ticket automatically enters you into the prize draw and you could win one of a number of amazing prizes generously donated by Watts River, Pimpernel Vineyards or Crumbz Craft.
And on the night, over a pot or a pint, a gin or wine, you can grab some free yarn and start crocheting and knitting flowers for Crumbz Craft's art installation.
Watts River Brewing has donated their venue for the night and is giving a percentage of the proceeds from the night to the fundraiser.
Crumbz Craft are asking volunteers to crochet and knit flowers, with yarn they are donated in the colours of Cure Brain Cancer Foundation's logo, which is a multi coloured paper crane.
The flowers will then be sold for $5 each and when someone buys one, they can then fix them to the crane installation in Crumbz Craft's shop window.